Mary Ann Aitken, Olga Balema, Will Benedict, Pope.L
Irradiation
November 11, 2023 - January 13, 2024

Images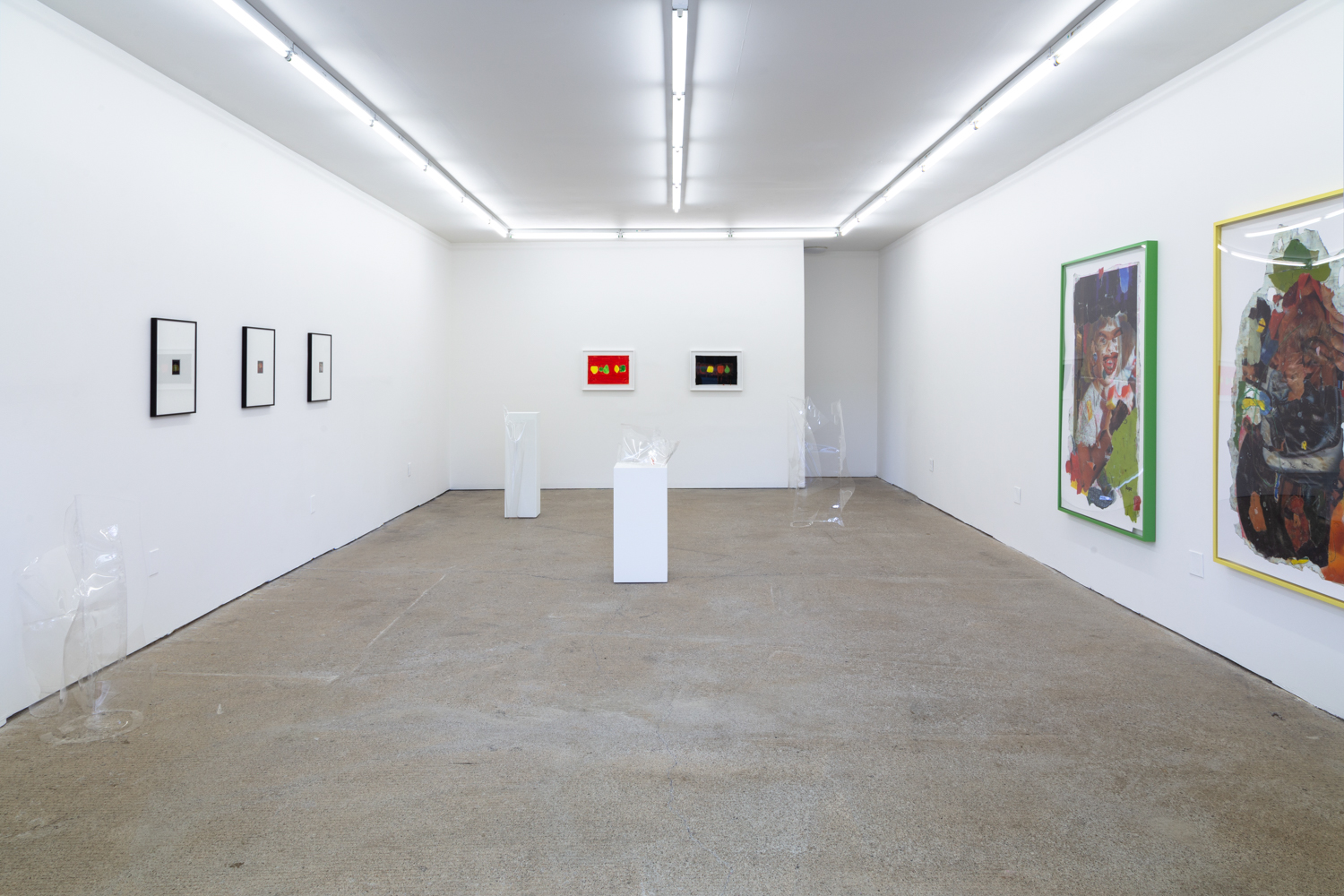 What Pipeline presents Irradiation, a group exhibition featuring Mary Ann Aitken, Olga Balema, Will Benedict and Pope.L.
Irradiation, in terms of visual perception, describes the phenomenon of a light shape on a dark background appearing larger than a dark shape of the same size on a light background. The edges of the light shape appear to expand into the dark background as if illuminated from within. This is the result of a neurophysiological response called lateral inhibition, where certain neurons are quieted as others nearby are excited, allowing sensory "noise" to be filtered out. This process helps us interpret complex visual information by heightening the contrast of edges.
Irradiation, in terms of organic matter, is a method for destroying unwanted organisms on and within food items, prolonging shelf life and preventing potential illness. Packaged foods such as fruit are blasted with ionizing radiation which breaks down the DNA of microbes. The radiation penetrates the fruit's surface but does not linger, much like our bodies being penetrated by x-rays but not retaining radioactivity. Some nutrients are lost during this process, similar to those lost during cooking, canning, or freezing.
The dual meanings of "irradiation" provide a starting point for looking at the works in this exhibition. The bright, gestural fruits in Mary Ann Aitken's untitled still lifes glow against dark backgrounds. Olga Balema's Loop series manipulates polycarbonate, gathering light throughout the circular and angular folds. Will Benedict's Polaroids capture unexpectedly visceral flora and fauna. Pope.L's large collage prints explode microscopic and provocative details into gargantuan scale. Exhaustive consumption, decay and instability, mutation and perception are all explored through color, form and materials.


Mary Ann Aitken (b. 1960, Detroit, d. 2012, Brooklyn) was for thirty years a prolific artist who rarely exhibited her work. Posthumous solo shows include Cleopatra's, Brooklyn, and What Pipeline, Detroit. Group exhibitions include Tokyo Detroit Berlin, TOKAS, Tokyo; the Museum of Contemporary Art Cleveland; Tomorrow Gallery, NYC; Marianne Boesky, NYC; Marlborough Chelsea, NYC; PSM Gallery, Berlin; and Greene Naftali, NYC. Her work is in the collections of Wayne State University, Grand Rapids Art Museum, the Detroit Institute of Arts, and the Whitney Museum of American Art.
Olga Balema (b. 1984, Lviv, Ukraine) lives and works in New York, NY and Berlin, Germany. She holds an MFA from UCLA, Los Angeles and has had residencies at Rijksakademie van Beeldende Kunsten, Amsterdam, The Netherlands and Skowhegan School of Painting and Sculpture, Maine, USA. Recent and upcoming solo exhibitions include: The third dimension, Bridget Donahue, New York, NY (upcoming 2023); Loon, Hannah Hoffman, Los Angeles, CA (2023); Formulas, Croy Nielsen, Vienna, Austria (2022); Olga Balema, Geta Brătescu, Galerie Barbara Weiss, Berlin, Germany (2022); Computer, Camden Art Centre, London, United Kingdom (2021); brain damage, Bridget Donahue, New York, NY (2019); None of the beauty of the landscape can reach her pupils anymore, High Art, Paris, France (2017); Motherland, Galerie Fons Welters, Amsterdam, The Netherlands (2016); Early Man, Swiss Institute, New York, NY (2016). Recent group exhibitions include: Looking Back / The 13th White Columns Annual, selected by Olivia Shao, White Columns, New York (2023); Whitney Biennial, Whitney Museum of American Art, New York, NY (2019); The Baltic Triennial 13: Give Up the Ghost, Contemporary Art Centre (CAC), Vilnius, Lithuania (2018); I Am Still Alive – On the Materialities of Life, Moderna Museet, Stockholm, Sweden (2016).
Will Benedict (b. 1978, Los Angeles) lives and works in Paris. His work has been exhibited most recently at the Center for Contemporary Art in Geneva, Basement Roma in Rome, Kunsthall Charlottenberg in Copenhagen, and the ArtSonje Center in Seoul. Solo exhibitions include dépendance (Brussels), Galerie Balice Hertling (Paris), Fondazione Giuliani (Rome), Bergen Kunsthall, and Halle für Kunst Lüneburg. Benedict was among the artists invited to participate in the Biennale de l'Image en Mouvement 2021 at the Centre d'Art Contemporain Genève; the newly commissioned work he created together with Steffen Jørgensen, The Restaurant 2, premiered in Geneva as part of the Biennale. Benedict's musical performance Pandemonium with live music by Wolf Eyes recently debuted at the Bourse de Commerce Pinault Collection.
Pope.L (b. 1955, Newark, NJ) lives and works in Chicago. He is the recipient of numerous awards and fellowships, including the Bucksbaum Award, Joyce Foundation Award, the Tiffany Foundation Award, the United States Artists Rockefeller Fellowship, the Bellagio Center Residency, Solomon R. Guggenheim Fellowship, Andy Warhol Foundation grant, Creative Capital Foundation grant, Franklin Furnace/Jerome Foundation grant, National Endowment for the Arts fellowship, Artists Space grant, and more. Recent exhibitions, performances, and projects include Between A Figure and A Letter at Schinkel Pavillion, Berlin (2022); Misconceptions at Portikus, Frankfurt (2021); Four Panels at Mitchell-Innes & Nash, New York (2021); Instigation, Aspiration, Perspiration, a trio of complementary exhibitions of his work in New York organized by the Museum of Modern Art, the Whitney Museum of American Art and Public Art Fund (2019), Flint Water Project at What Pipeline, Detroit (2017); Whispering Campaign at documenta 14, Athens and Kassel (2017); Claim (Whitney Version) at the 2017 Whitney Biennial (2017).